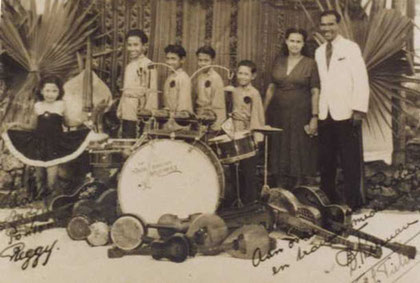 (Father) Herman Dirk Tielman (Menado 1904 - † The Hague 1979)
(Mother) Flora Laurentine Hess (Madiun 1901 - † Purworedjo 1991) (German ancestors)
- she was married before with Louis Napoleon Uchtmann (4 children Jack, Lieke, Kitty and Ralph were born).
Reggy (Reginald)- born the 20th May 1933 in Surabaya, Indonesia (he got the surname Uchtmann); deceased the 12th. March 2014 in The Hague.
Ponthon - born the 4th August 1934; deceased the 29th April 2000 in Jemper, Indonesia.
Andy - born the 30th May 1936 in Makassar, Celebes, Indonesia; deceased the 10th November 2011 in Rijswijk (suburb of The Hague).
Loulou (Herman Lawrence) - born the 30th October 1938 in Surabaya, Indonesia, deceased the 4th August 1994 in Cairus, Australia.
Jane (Janette Loraine )- born the 17th August 940; deceased the 25th June 1993.
THE TIMOR RHYTM BROTHERS (Indonesia 1948-1957)
Andy Tielman † (guitar, vocals)
Reggy Tielman † (banjo,guitar,vocals)
Ponthon Tielman † (double bass, guitar, vocals), left in 1956 for Bussum, the Netherlands
Loulou( Herman Lawrence) Tielman † (drums, vocals)
Jane (Janette Loraine) Tielman † (Vocals)
(Father) Herman Tielman † (manager, guitar)
(Mother) Flora Lorine Hess † (presentation)
The story of THE TIELMAN BROTHERS begin in Surabaya, where the 4 little brothers Tielman and little sister Jane started performing together in 1948 folk songs and traditional dances. Father Herman was a municipal official in Soerabaya. During World War II he had stayed in a Japanese concentration camp. He owned a house in Surabaya and started to play music together with his friends. Herman Tielman was a gifted all round musician and he was the one that supplied Reggy, Ponthon, Andy, Loulou and Jane with their rich musical luggage. From the started Ponthon wanted to play the big double bass. Reggy wanted to play banjo and little Loulou was fond of the drums. Andy learned to play lead guitar. During their first performance during a house party they surprised their fathers friends with difficult numbers like Tiger Rag and 12th Street Rag.
Gigs followed at several private parties in Soerbaya. It went fast and within half a year they went on tour as THE TIMOR RHYTHN BROTHERS -Timor is the island, where the Tielman family inherited from - along the camps of the Dutch soldiers. There after they received offers from the NIWIM (National Effort Welfare Indonesia) and together with famous Dutch artists like De Wama's, the Ramblers and the Skymasters they toured along the major cities of Indonesia. Their shows consisted of music and dances from all over the Indonesian islands including corresponding costumes and ritual attributes like war spears and swords. During these shows father Herman Tielman joined in on guitar, mother Flora took care for the general presentation.
On the 29th December 1949 the official independence proclamation of Indonesia took place. The Tielman family now performed for the Indonesians. They even performed in the palace of president Soekarno in Djakarta. When they grew older they started to cover the top hits in perfect close harmony. In 1951 they were introduced to Guitar Boogie of Arthur Smith. Andy later told in an interview: 'this was the first song which my brothers and I converted into rock 'n roll by adding drums to it'. Later they started playing number of Les Paul, Elvis Presley, Little Richard, Bill Haley, Fats Domino, Chuck Berry and Gene Vincent. Andy also played together with Dolf de Vries in the band THE STARLIGHTS in Djakarta. Also on Sumatra he played without his brothers in the Hawaiian band of Freddy Wehner.
THE TIMOR RHYTHM BROTHERS –THE FOUR TIELMAN BROTHER-THE 4 T's (Breda/Hedel 1957-1959)
Andy Tielman † (lead guitar, vocals)
Reggy Tielman † (2nd lead guitar, vocals)
Ponthon Tielman † (double bass, vocals)
Loulou Tielman † (drums, vocals).
At a certain moment they were offered an extensive tour throughout Indonesia, but only on condition that they should change their Dutch nationality into Indonesian. In the opinion of Herman Tielman his children would have a better future in the Netherlands and in 1957 the family repatriated to Holland by boat. Ponthon was already repatriated one year earlier and lived with his wife Joyce and sons in Baarn and later Hedel.
After arrival in Holland they were settled in Breda in boarding house Smolders at the Baronielaan. They possessed only of a small suitcase with thin tropical cloths and they were confrontated with the cold Dutch winter. Luckily the DMZ (Military Affairs Service) supplied them with warm clothings. Edu Schalk - later singer with the Poetiray Brothers from Oosterhout- was their first Indonesian friend in Breda. The brothers went to the music shop Spronk in Breda and after they had convinced the owner of their great talents with their version of Bye Bye Love by The Everly Brothers, they were allowed to buy the most expensive guitars from the shop at instalment purchase. That became the legendary big white Miller guitars and a sunburst Wilson guitar. These were products of the Egmond company from Eindhoven (type ES 57). Later they also bought Egmond combo amplifiers to replace the old radio's they were using.
Their first appearances took place in Hotel De Schuur at the Catharinalaan in Breda. In the beginning they performed as the TIMOR RHYTM BROTHERS but soon they called themselves THE FOUR TIELMAN BROTHERS or THE 4 T's. They soon went famous in Breda and started gigging other places in the province Brabant like Kamp Lunetten in Vught and dancing De Cosmopoliet in 's Hertogenbosch.
The family Tielman moved ca. 1957/1958 to a house in Hedel (Gelderland) en lived until early 1960 in the same street as Ponthon Tielman and family.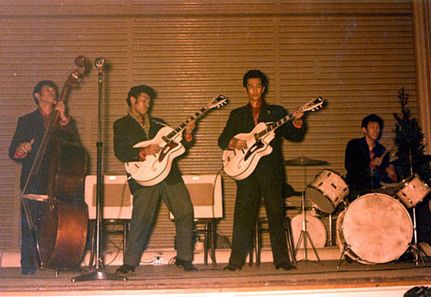 The big aluminium balls of the Atomium in Brussels, Belgium still remember us of the world exebition Expo 58, which was held from the 17th April until the 19th October. At that time Hawaiian music was very popular in Europe and as a part of the Attraction Park a Hawaiian Village was created. With a decoration of palm trees, a blue sky and exotic plants and flowers Rudi Wairata (steel guitarist) and Mike Anoi (Guus 'broer' Arends) and their Hawaiian bands played as main act. Several Dutch bands appeared and also THE FOUR TIELMAN BROTHERS were invited by Mr. Morisson from the organisation of the Hawaiian Village. They were allowed to fill a break of 20 minutes. They gave a spectacular rock 'n roll show as never in Europe performed before. Andy played guitar with his foot, the guitars were played reverse in the neck, his guitar was played with the drumsticks of Loulou, the double bass was handled in a sheer acrobatic way and guitars were tossed between the brothers. The 20 minutes became almost 6 months.
The Belgian René 'Nappie' van Vlasselaer became their manager and arranged a recording session for his label Fernap. Together with his brother Ferry he owned the jukebox company Fernap (Ferry and Nappy). Rock Little Baby Of Mine was an up tempo rock song written by Andy Tielman as well as the flip side the ballad You're Still The One. The inspiration for both songs came from his idol Elvis Presley, but the specific Tielman style was already present despite the primitive recording techniques. During that period Andy got married in Brussels to Jeanine M. When after one night all their guitars and amplifiers were destroyed by a fire at the Expo his father in law Roger M. bought them enormously expensive Gibson Les Paul guitars and amplifiers brought in straight away from the U.S.A.
Hans Joachim Kulenkamp and Peter Frankenfeld, famous German TV showmasters, discovered the Tielman Brothers at the Expo and invited them at the end of 1958 to Germany for a guest appearance in their TV show and a musical show act in the movie Paprika.
The very first performances of THE TIELMAN BROTHERS in Germany took place at at "Plankenkaffee Kosschenhaschen" in Mannheim from 3 up to 16 January 1959. One night their show was filmed by Hessischer Rundfunk (HR) and was live on German TV January 27, 1959. This footage was transmitted again in Germany in the SWF-Abendschau. The Tielman Brothers were also invited on the 29th January 1959 at Hotel Deutsches Theater in München during a movies ball at the occasion of the premiere of the movie Paprika. There they met actress Romy Schneider and were rewarded with movie medal.
In 1959 the played mainly as an act in between in circuses and year fairs. Their Belgian manager had placed them that in that scene. With Circus 'Fischer' they travelled throughout Germany and they also did a guest appearance at the famous 'Oktoberfest' in München.
Cor Aaftink at that time label manager (Imperial) of record company Bovema had the courage to offer the for Dutch standards very wild rock 'n roll group a recording contract. Their debut single became one of the highlights in the Dutch pop history. The catchy rhythm in Record Hop and Swing It up, the unique vocal achievements of Andy and the instrumental backing with Ponthon still on double bass sounded very international.
THE TIELMAN BROTHERS (1960-1963) Imperial recordings + Ariola (3 singles + 1 EP)
Andy Tielman † ( lead guitar,vocals)
Reggy Tielman † (2nd lead guitar, vocals)
Franky Luyten( rhythm guitar, vocals)
Ponthon Tielman † ( bass guitar, 6 string bass, vocals)
Loulou Tielman † ( drums vocals)
In January 1960 the Netherlands and especially The Hague made their first aquaintance with THE TIELMAN BROTHERS. On the 3rd January 1960 they played in the Koepelzaal of the Haagse Dierentuin (The Hague Zoo). A show of which the happy few who attended it still talk about it with enormous respect. On the 23rd January 1960 they appeared on television. A typical Dutch winter evening to gather around he the stove and on the only TV channel available there was a broadcast of the AVRO (a Dutch Broadcasting Company). In the Weekendshow (broadcoasted from 't Spant in Bussum) four slim brothers appeared, who called themselves The Tielman Brothers. They started their spectacular performance with Black Eyes and continued their appearance with Rollin'Rock and every possible show element was brought into the floodlight. For instance a log drum solo from Loulou in which he took a drumming stroll around his drum kit, Ponthon crawling on the floor but still playing his white double bass, Andy playing guitar with his teeth and foot and reverse in his neck standing on the double bass and Loulou pounding musically on the strings of Andy's guitar. Of course some elements were copied from Spike Jones and Bill Haley.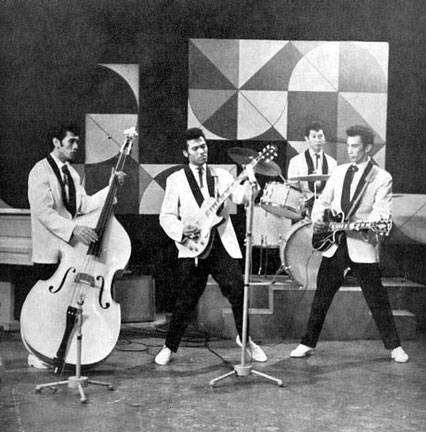 Such a sensational and wild rock 'n roll show never ever occurred on Dutch television and in my personal opinion it was in no way surpassed any more. The rock 'n roll of the Indonesian guys was so heart-warming in our cold and orthodox country, but the TV reviewers and music experts thought differently. A load of negative critics was printed in the news papers. These historic moments are luckily preserved and 45 seconds of it were used by Hans Heynen in his film documentary Rockin'Ramona. We see in this movie how the long and slender fingers of Andy run along his Gibson Les Paul guitar in Black Eyes. Rarity Records released later in 1991 this TV show in cooperation with Tojo even integrally and the sound track on CD.
Also in January 1960 they recorded 4 songs in the Bovema Studio Heemstede. My Maria (through the years the most requested number), You're Still The One (re-release of their first recording in 1958 sounded perfectly now), Black Eyes (their first instrumental which would become one of the highlights in the history of so called Indo Rock) and Rock Little Baby (also a re-release of their first record from 1958, but it sounded much better now).
After that they left for Germany. They started their well paid month contracts in the Ringstuben in Mannheim. The family Fluhrman owned this dancing and the Ringstuben was always called the Sputnik by the bands and visitors because of its decoration with rockets and futuristic space ships. The TIELMAN BROTHERS would return there often. Then they went to Studio 15 in Dusseldorf and the nice dancing Westhof in Heidelberg (also a legendary location because of the American GI's who stayed there). Another famous dancing was the Jolly Bar in Hanau (this was also an American army camp).
The returned once again to the Bovema to do some recordings for their first 10 inch LP and they asked for assistance of guitarist/singer Franky Luyten (no family despite the fact some people say that he was cousin or a married in family member). It concerned the following songs: O Sole Mio (a beautiful cover of the Elvis Presley hit- It's Now Or Never), 18th Century Rock (the first Dutch rock band, who rearranged a classical music piece featuring twin lead guitars- their version of W.A. Mozart's Piano Sonata in C Major, K.545, main theme, got a load of negative criticisms. However the main theme was already addapted in 1939 by Raymond Scott and released as In An 18th Century Drawing Room and the Tielman Brothers were inspired by the version from Hank Snow and Chet Atkins (RCA 1955), A.A.A. (an interesting instrumental based on Big Guitar by Owen Bradley), Pretend (perfect cover of the Carl Mann hit), April in Paris (a beautiful instrumental, but the actle title was I love Paris), Oh Rosalie (a hit for Conway Twitty), I Can't Forget You (another typical and sensible vocal song by Andy Tielman in an unique way that only he could do) and Night Train (a sublime interpretation of this jazz standard written by Jimmy Forrest). 6 of these 8 recordings appeared earlier as singles. 18th Century Rock/Pretend even in the U.S.A. on Capital Records. O Sole Mio came in 1964 also on their 12 inch LP with on the sleeve the clear statement: We don't have Indonesia anymore ………….. but we still have The Tielman Brothers. The instrumental Night Train remained very rare because this number only figured on their 10 inch LP 'Tielman On Stage' released in 1961.
Franky Luyten went along to Germany and he would be part of THE TIELMAN BROTHERS until the middle of 1964. In the spring of 1961 Andy Tielman bought his first (white) Fender Jazzmaster. Andy knew this guitar from the LP sleeves of The Ventures. This guitar appeared to be quite suitable for stage bouncing (much lighter then Gibson Les Pauls) and other guitar acrobatics and stage acts. This was quite important and in the end they band bought a complete Fender equipment outfit at Radio Barth in Stuttgart. During that period THE TIELMAN BROTHERS had their own mansion in Heidelberg.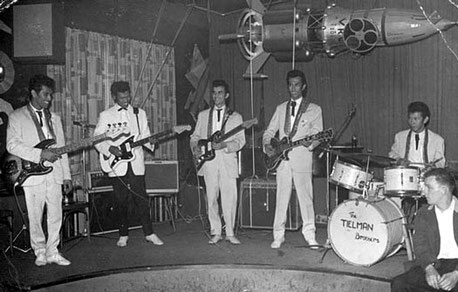 In 1963 Jane Tielman went more and more on tour with the band. The same year that obtained also a recording contract in Germany for the Ariola label On the A side of their 1st single came Tahiti Jungle (an arrangement of Hawaiian War Chant of The Ventures) and on the B side the German song Fern Am Amazonas (Ariola had herewith the success of The Blue Diamonds in mind). The same recipe was followed for their 2nd German single: Java Guitars ( Andy's own interpretation Guitar Boogie, enormously popular and still copied today) with Weine Nicht Kleine Tamara (cover of the German singer Rudi Schurike from 1951) - in 1964 covered instrumentally in a very nice way by Jan de Hont and his 'Maskers' (a famous Dutch guitar group). Their 3rd single in 1962 was completely instrumental with an arrangement of a German folksong: Little Hänschen Twist and a magisterial treatment of Twistin'The Carioca (Les Paul instrumental originating from the film musical 'Flying Down To Rio' with Fred Astaire and Ginger Rogers from 1933).
THE TIELMAN BROTHERS (1963-1964)
Andy Tielman † (lead guitar,vocals)
Alphonse Faverey (lead guitar) ex Strangers; to The Four Beat Breakers >The Time Breakers
Reggy Tielman † (2nd lead guitar, 6 string bass, vocals)
Franky Luyten (rhythm guitar, vocals) to the The Four Beat Breakers>The Time Breakers
Ponthon Tielman †(bass guitar, 6 string bass, vocals) to Tielman Royal ; afterwards back to Indonesia
Loulou Tielman † (drums, vocals)
Jane Tielman † (vocals)
In 1963 Andy and Reggy Tielman were involved with a severe car accident and came under a freight truck. Reggy recovered after 2 weeks, but Andy was for 4 days in coma and his arm was broken at 8 spots. His arm was put in plaster and his recovery lasted many months. As replacement Alphonse Faverey joined THE TIELMAN BROTHERS. His band THE STRANGERS had split and he would remain with the band after the return of Andy.
The guitar playing was less good and Andy concentrated even more on his vocals. Nevertheless Andy created a real innovation in the guitar world. He put 4 extra banjo strings on his Jazzmaster and with this 10 string guitar he could achieve very special effects and a big sound. The rumour goes that an employee of Fender came to the Sputnik to watch Andy's unique guitar. Framus and Vox made prototypes of a 9 string guitar, probable influenced by Andy and almost all Indo- Rock bands in Germany followed Andy's conversion of their lead guitars, Fender Jazzmasters of course. Together with Alphonse they did a tour in Israel in December 1963.
Unfortunately no records were made during they stay of Alphons in the band. During 1964 Franky Luyten and Alphonse Faverey returned to The Hague and started their own band THE FOUR BEAT BREAKERS (later THE TIME BREAKERS).
Because of disagreements Ponthon left THE TIELMAN BROTHERS played for some time with hs own band TIELMAN ROYAL and after that he went back to Indonesia where he stayed until his decease in April 2000.
THE TIELMAN BROTHERS( 1964-1967)
Andy Tielman † (lead guitar,vocals)
Reggy Tielman † ( 2nd lead guitar, 6 string bass, vocals)
Hans Bax (rhythm guitar, vocals)
Rob Latuperisa( bass guitar, 6 string bass)
Loulou Tielman † (drums, vocals)
Jane Tielman † (vocals)
Together with Hans Bax and Rob Latuperisa coming from the broken up legendary Indo-Rock group THE JAVALINS started touring again in Germany again under the name THE TIELMAN BROTHERS, despite the fact that Andy himself had problems with this name. He would have preferred to continue as THE TIELMAN BAND. In this formation they recorded end of 1964 a live LP as well as a number of singes of which Hello Caterina was one of the better own compositions. This LP contained mainly covers because the repertoire had to be adapted more and more to due the pending trend of that period.
In 1965 they were invited to perform in the best known dancing of the Netherlands the posh Palais de Danse in Scheveningen( the seaside village of The Hague). Although they hadn't played in Holland for years their fans came from all over the country and had to cue for the entrance well in advance, watching the sharp dressed band members arriving in their big limousines. They appeared with big success during July and August and their opening acts were the well known ZZ EN DE MASKERS and ANDY STARR & THE STRIPES.
Jos Van Vliet, earlier president for THE CRAZY ROCKERS fan club and now Press Manager with Negram/Delta records invited them to the studio and the result was the beautiful album 'East & West', on which Andy excelled in 5 wonderful ballads like Unchained Melody, Maria and Danny Boy. Jane sang lead in Bring It On Home To Me. Reggy was the lead singer in a number of traditional Indonesian songs like Ole Sio and Kekasih Ku. The number Maria (West Side Story) was released as a single and reached with number 20 in the Dutch Top Forty its highest position in 1965. The self penned impressive instrumental Marabunta was also released in the U.S.A. on the Scepter label.
Andy was as far as we know the only famous lead guitarist who used the meanwhile very rare Vox Guitar Organ on stage in 1966. This instrument could reproduce organ- and guitar sounds. With its multiple controls and knobs it was not easy to play. More over this organ guitar could only be played with an electronic plectrum which was connected with the PC boards of the guitar. This organ guitar soon disappeared from the market, but once again Andy Tielman proofed to be a true innovator in guitar sound.
Until 1967 they recorded for the German Ariola label, but the typical Tielman style was most of the times far gone. In 1967 they had totally unexpected their biggest hit in their career. Little Bird was recorded in 1967 in the Netherlands and reached the number 7 in the Dutch Top Fourty. The record was released in the U.S.A. on the Ranwood label.
There after followed a period of constantly changing formations and they appeared as ANDY TIELMAN & THE TIELMAN BROTHERS. The typical Tielman sound even further disappeared and only in 1979 Andy would show something of his old glory. Especially the instrumental Sarinandé made quite an impact and it was very remarkable tot see at last a LP with 4 instrumental numbers, after all these were the real roots of the Tielman Brothers.